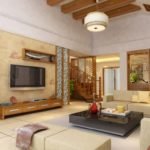 When you think of a small space for living, then some people are very uncomfortable but it is challenge and it can be easily done if you put your mind to it. Living in one room seems impossible and wanting all facilities seems impossible to adjust in one room. With all the difficulties and challenges, it can be possible. You must be thinking that how will you adjust your kitchen and bed and tv and the rest of your things in one room. Well you can start with first deciding where you can place your kitchen. As you, enter into your room, your kitchen just in the beginning so, you can save some space in the rest of your room. You can keep your bed near the window and you can push it to your wall. The center space will be free with this setting. Now, in the middle space, you can keep a center table and infront of that you can keep a flat screen TV. The middle table can be used as a dining table too and you can use it for multipurpose like for writing and doing the rest of your work.
Always add a peg board in your room, it is very useful because you can hang your hat, your umbrella, your coat and a lot of other things and it saves a lot of space since you don't need a wardrobe for it. In one room living, you have to have a built in wardrobe. A hanging chair is a very clever idea. It saves space and looks very stylish. You can even have a built in desk which can fold back in the wall. This way it can only occupy space when it is required. The bath room can be added just opposite the kitchen so this space can be utilized properly. You can place your automatic washing machine inside the bathroom area to save space. Always buy an automatic washing machine since it is designed to spin and dry all the clothes. So, you don't need a separate space to dry the clothes. You can have pink tiles in the washroom, since they look very nice and a black heated towel rod can be added to keep the bathroom warm during extreme cold temperature. A full-length window is very important. It will illuminate the whole room, giving an impression of space. Coffee tables are very useful. They are small but serve the purpose.
The last but not the least are the cushions. They must be big in size so they can be used as pillows at bedtime. Flat screen TV are best for small spaces. They can be mounted on the wall and they don't even take much space. You can live in one room and it will never cross your mind that it is small because if you will plan it well. You can adjust everything in it according to your lifestyle. Click here for more information.