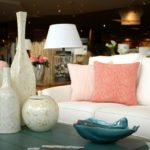 Home accessories in Leicester are an important aspect of home decoration. With home accessories you will be able to add your personality to the design of your home in various ways. The trick is all about knowing what you want and how to decorate your home with the right home accessories. This article focuses on tips that can assist you in adding home accessories that will bring out the beauty in your home.
The first in adding home accessories in Leicester is deciding what theme you want to achieve. For example are you looking to achieve a country, ethic, traditional, contemporary or a vintage theme. Once you've decided on the theme you wish to achieve, you can then browse through magazines or the internet to find the accessories you will need to achieve the design theme. You also need to take note of the colors of accessories that you are buying to align with the color the space is painted with.
Area rugs used under a dining room table should be large enough to also accommodate the chairs when fully pulled out. Place furniture completely on the rug for a warmer effect. Area rugs can define a space and pull a room together.To create an attractive look of your home, you should consider grouping your home accessories in different heights and textures as well as in odd number. For instance, you can group a night side table with a picture frame, a small flower pot and a lamp.
Mirrors are great to expand a smaller space. Try leaning a tall mirror behind a bed as a head board for a dramatic look. Try a large mirror that stands on the floor attached to the wall behind a small dining room table. Low lighting with lit candles will sooth all your troubles away. Bathrooms can have a spa appeal by placing clear glass bowls filled with colored soaps, bath salts or bubble bath beads on the bathroom counter. Candles are also look great on a bathtub.
Lightings are an integral part of home decoration so should be done excellently. Lighting creates ambiance and should align with the theme you want to create. Accent a large picture with a spot light to enhance a focal point in a room.Avoid cluttering entry ways, as this is the first place of the home that is seen, and it gives a hint of how the rest of the home will look like. You can decorate this space with some unusual accessories on a side table to give it the right tone.
When hanging pictures, ensure that the center of the picture is exactly at eye level, place art works eight inches above the table, or six inches above the sofa.Bookcases are usually cluttered, vary the heights of books with the tallest in the middle.Try to vary the size of the shelves vertically for interest. You can also mix and match books with ornaments, but make the books the focal point.Don't put small books next to tall books. Place a plant on the top shelf for balance.