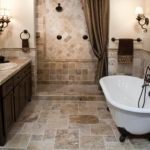 It's becoming more and more common for people to attempt to create their dream home, and design their interiors in a way that doesn't cost them a vast amount of money. In these uncertain times, some people don't have the option of spending tens of thousands on home design.
Fortunately there are ways to produce luxurious surroundings without breaking the bank, especially when altering your bathroom. It's best to first of all determine how much you are able to spare, and then spend as much time as you can in searching the internet, and getting a clear idea of what kind of options you have.
If you are interested in recreating a Victorian bathroom, for example you might want to look into getting either a cast iron bath, or the less expensive option of going with a acrylic roll top bath, which will still fit within the aesthetic that you are looking for.
Basins and bathroom storage
A decent tip is that sinks with legs are usually less expensive than getting a cabinet, although it does mean that you will have to add shelves to an alcove if you need the storage space.
Mix and match
Many people opt to buy similar items from different brands, which can save them further. However we do advise that you check the colours closely, in order to make sure that they complement each other.  It's a similar idea if you opt to simply add a new item into the bathroom suite that you already have.
Fixtures and fittings
In case that you have decided to buy the fittings, and hire a builder to install them, then it's best to double check such things as the position of taps. There is a possibility that you might have to move waste pipes, which will cost you more in both time and expense.
Enhance your shower
You might be tempted to upgrade your shower to something more powerful, but that can be very expensive. A money saving tip is to simply change your shower head, for something bigger. There are internet based companies that will be able to guide you to the best one for you.
Choosing bathroom tiles
If you are looking for tiles, then although real stone are aethestically pleasing, it's best to go for the less expensive options of ceramic and porcelain tiles. You can save even more money by tiling just those parts of the bathroom that are likely to get splashed with water.
If this piece has inspired you to look into changing your bathroom, then you should contact https://www.cravenandhargreaves.co.uk, a Leicester based firm of well-regarded interior designers.