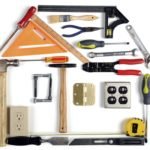 When carrying out home renovations in Leicester, there are variety of tools that you will need to do the job. Though the renovation on its own may be important to you, but the tools are the most important thing in any home renovation in Leicester. This article focuses on the various tools and supplies that are needed for an effective home renovation in Leicester.
The first point of call is your safety. Your safety should be considered first whenever you want to carry out a home renovation in Leicester, and as such, you should invest in some safety equipment which may include masks, gloves, goggles, helmets and ear protections.
Home renovations involves changing of large or small parts of the home, such as the walls, ceiling, floor or other aspects of the home. Each of these sections requires specific tools to carry out effective renovation on them.
If you plan on working on the walls of your home, you will need some tools, depending on the type of job that you want to do on the wall. Masonry primer and a stiff-bristled paintbrush, are good for painting the walls of your home, so you should consider getting those also. In case you want to renovate a panel wall, chisels, caulk gun, hammer, framing square, wallboard knife, pry bar, nails, putty knife carpentry knife and a rubber mallet are good combination of tools that can aid you in carrying out an excellent renovation work on the panel walls.
Tools such as hacksaw, a drill of good quality, scrapers, bits and a caulk gun are good for outdoor jobs such as the installation of new drainage or gutters. Internal job requires its own sets of tools also which include utility knives, drills, stud finder, hammer, pliers, scrapers, a level, screwdriver, awl and paintbrushes depending on the nature or home renovation you want to carry out.
Each tool has its specific area of applications, for example, if you doing a plastering job, you will need to make use of wallboard knives and a paintbrush, while tools such as tile cutter, compass, awl, utility knife, mallet, grout float and a nipper are good if you are doing flooring jobs such as changing of ceramic tiles. Trowels, chisels, caulk gun, squares, straightedge, drills and saws are good if you are doing a sub floor job. Your sub floor should be in excellent condition and without any form of damages in order for the floor renovation to be excellent.
To effectively carry out roof renovation job, tools such as hammer, shingles, soft shoes, drill, extension ladder, bits, slide guards and brackets will be needed.
Most of the tools mentioned in this article can be used for more than one job, the trick in carrying out an effective home renovation in Leicester is first knowing what you want to change in your home, this will guide you on the tools that you need. However, if you don't feel like buying these tools, most of them can be rented on a daily basis which can be a money saver.