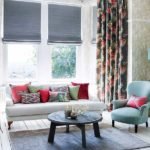 Most home owners consider window treatments as finishing touches to the decoration of a room, this leads to paying little or no attention to what is used in decorating it.Your budget often run low when improving on the curtains and blinds of your home, no matter how high the cost of buying curtains or blind in Leicester for your home may be, you should never neglect this part of the building because they are very important in making a personal statement in the interiors of your home.At the early stage of home design, window treatment should be given great attention especially if the apartment has large windows just like in penthouses and lofts. Curtains and blinds are very important in the beautification of the home, choosing the right style and colour of your window does create a comfortable and welcoming atmosphere and also showing its size as well as giving perspective and ambience to the room.
For most people and home decorators, white happens to be a choice colour simple because white goeswith almost any design and colour combination, you can hardly to go wrong with white. White provides a unifying base for the most window designs because it's versatile and timeless. Though there are different shades of white, but with the right blend, you can alter the feel and look of your room with white and also increase the impact of your window curtains or blinds. People want window curtains and blinds that can give real character and individuality to the room.
The light your apartment is getting from outside should be considered when choosing the colour of your window curtains or blinds. The room orientation should be considered also when selecting the colours of your blinds and curtains in Leicester, because the orientation of the room decides the warmth that the room will be getting throughout the day. Colours warm rooms, so if your room does not receive light during the day, you should think of choosing a colour that can warm the room. The new finishes on blinds, such as brushed aluminium, produce a nice cool effect on windows that need cool light from the outside. Rooms that benefit from the afternoon or sunset sun will receive reddish light and so you don't need to give such a room any artificial warmth. Just a trick, vertically striped fabrics and venetian blinds and curtains often improve the look of a room that has a low ceiling, also they create a warm and relaxed atmosphere.
It is important to invest in your window treatments and also give it the same attention that you give every other part of home decoration. You don't want people to see a window that lack the guile of a well-built house especially if your home has a window facing an exceptional landscape. If your window is poorly designed, you can add life to it by decorating it with exceptional blinds and curtains with great colour like white.