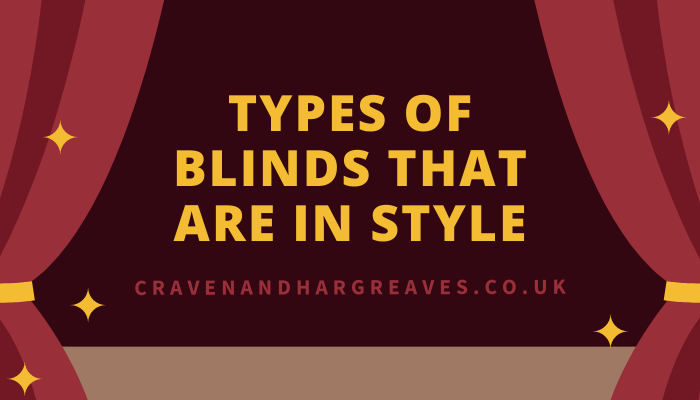 Windows are essential for any house, office, and space. Yet the windows, patios, or backyard doors look boring without blinds. These boring spaces yearn to be filled with stylish blinds. Also, there's no denying that our home interior is incomplete without blinds. They infuse a sense of perfection in the bare spaces. And make your mornings and nights more soothing. Fast forward today, people are more concerned about the aesthetics of their places. So, many people rely on experts for their services while choosing the types of blinds that are in style.
Benefits of blinds
Choosing blinds over curtains is the smart decision that you can ever make to spruce up your windows. You will be sure to reap the following benefits of using the blinds
You can control the amount of light entering your room
Maintaining them is not a hassle. You can just wipe them to remove dust and dirt
If you are more concerned about the privacy of your room, blinds make a good choice
They act great as a substitute to fill up space
Blinds come with a wide array of styles, patterns so you can match them with your taste.
Let's explore different types of blinds that are in style.
Vertical Blinds
Vertical blinds are in style for large windows or doors. They are hung from the clamp present at their top. Their panels are long enough to cover the entire length of large windows. So, they ensure maximum privacy while controlling light. Also, they allow you to turn each panel left or right and slide them to one side. Moreover, installing them is a breeze. If you fancy saving your money, these economical blinds are a great choice.
Venetian Blinds
The most popular type of blinds is Venetian blinds that feature horizontal slats made of wood, plastic, or metal. Cords are used to suspending each slat apart, and you need to unlock the slats by pulling them with strings before lowering or raising the blind. They shut down the sunlight totally and make sure your room won't heat up.
Cordless Blinds
Another type of blinds that are high in demand is cordless blinds. Children are at high risk of injury by strangulation with the cords of blinds. So, they are great options for those who have children in their homes and are concerned about their safety. Further, installing them is a breeze, and they don't need any cord for operation.
Wooden Blinds
If you're looking to decorate your rooms or workplaces, wooden blinds are a great option. They're adjustable and let natural light enter your space. The wooden horizontal slats are used to regulate sunlight. Wooden blinds give total privacy and comfort since they may be opened or closed depending on how much light enters the room.
You may easily buy them from the market and trim them down to fit your window size. These wooden blinds are accessible in various colors, patterns, and price ranges. You may easily select according to your preferences and budget.
Roman Blinds
If you want to replace the blinds on your windows, keep in mind that each window is unique. Therefore, the design and style of the blinds that have been installed on them are equally impressive. When it comes to decorating your window, Roman blinds are a beautiful alternative. They are available in a variety of silk and linen fabrics.
These blinds have a unique design on the windows. They create a lovely and tidy fold at the top of the window when you desire light in your room. If you don't want any light in the room, pull the fabric back, and you're done.
Cellular Blinds
Cellular blinds are made from pleated material that forms honeycomb-shaped sections. These blinds are a good and beautiful window treatment. Cellular blinds are also known as honeycomb shades. Because they quickly filtered or blocked the light by using these blinds. Honeycomb shades or cellular blinds are available in single cell, double cell, and triple cell variants. Their price depends on the layer of cells. If you use several cells and layers of fabric, you can insulate more tints in the material.
Pleated Blinds
Pleated blinds may be pretty helpful if you want to add style and atmosphere to your house. These blinds are unique and easy to install. An aluminum coating is used to manufacture these blinds, which keeps the house cool in the summer and cozy in the winter.
The aluminum coating also protects the room from UV rays by reflecting them. Finally, one of the essential advantages of pleated blinds is that they don't block all the light and air from entering the room. So even with the shades entirely closed, your space will seem light and airy.
Roller Blinds
Roller blinds are the most stylish and attractive type of blinds. A single piece of cloth wraps around the casing in roller blinds and fits at the top of your window. With the help of a pull cord attached to the bottom of roller blinds, you can quickly up and down the blinds.
Roller blinds keep the room warm. These are the most affordable type of window blinds available in the market. Also, some of these blinds can be open and closed by using motorized controls.
Panel Blinds
Panel blinds are an excellent choice for covering big windows and doors. If you have a large sliding door or window, then panel blinds are perfect for protecting them. They also make your window and door stylish. These blinds can easily open and close with the help of wand control. Panel blind can also be used for room dividers.
Bringing it all together
Blinds can bring a huge change in your room- and for good reason. Their versatility and practicality make them a good choice for installing them in your room. Knowing the most trendy types of blinds, you can install the one that matches your taste and caters to your privacy, heat, and lighting needs.
Here are Few tips on Curtains and Blinds.
Also, you can read Blinds and Curtains.